Hi Ecigssa members, In this review i take a look at the Gather RDA/RDTA from Ultroner. The Gather RDA/RDTA was supplied for the purpose of this review by Linky from Sacowin, Ultroner's Marketing Company.
https://www.sacowin.com/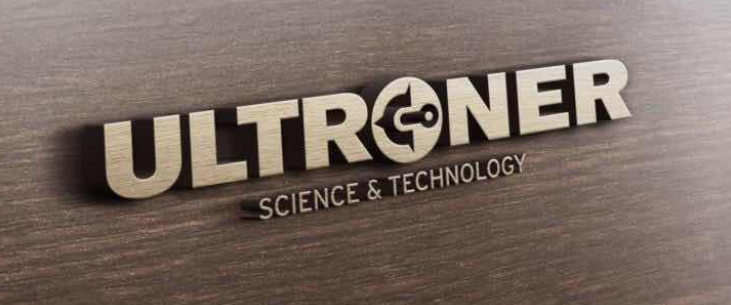 Introduction
Ultroner are part of the Sacowin family which also includes Cool Vapor, DJV and SXK. The Utroner Brand are best known for their affordable stabwood devices and long standing partnership with Asmodus which has for now come to an end. Ultroner have been very busy recently releasing a number of products and here we have something they haven't released for a while an Atomizer.
The Gather is a single coil MTL/RDTL RDA/RDTA Hybrid which can be used with standard or BF pins in either Format. With airflow from one outer side airflow slot it relies on the use of inserts for adjustability. The Gather is a busy looking Atomiser comprising of Stainless Steel, Ultem and their signature stabwood. With filling either achieved via the use of the fill valve on the deck or Squonking using the BF pin it's very versatile making this little beauty well worth a look!
___________________________________________________________________
Information The Best I Can Do
I first posted pictures of the Gather on one forum a couple of weeks ago but at the time of starting writing this review i can't find it on either Ultroner's or Sacowin's websites and a Google search brought up no results.
So as far as technical Specifications and available colours Blah Blah, I have simply measured and listed content etc and gave whatever information i can. If future online content shows anything i have put is incorrect i apologise in advance but everything seems in order. I am just extremely early on this one which makes a change as i'm quite often very late to the party when hangovers for most have already set in!
___________________________________________________________________
In The Box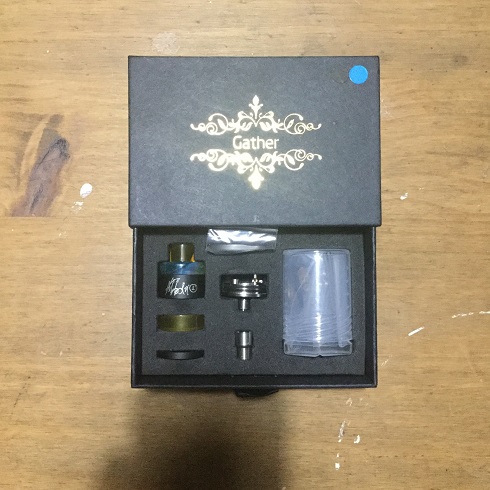 Contents:
Gather Deck with Standard Pin
Sleeve/Top-cap with 510 Ultem drip tip
Pipe Extension
Base
Ultem Tube
BF Pin
Standard pin Extension
BF Pin Extension
Peek For Extension Pins
3 Airflow Inserts
Spare Post Screws
Spare O-rings
2 Round Wire MTL Coils (no specs)
Beauty Ring With Loop
2 Hexagonal Wrenches
User Manual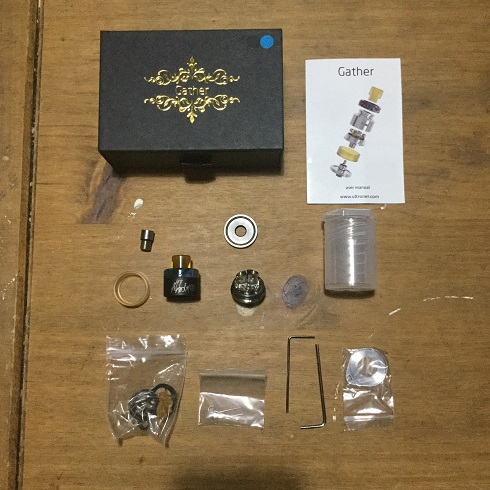 ___________________________________________________________________
Aesthetics
The Gather came in Black draw style cardboard packaging, the box was plain apart from a fancy design and "Gather" both in Gold on the front of the box. The RDA/RDTA comes disassembled with each part having it's own compartment and spares etc placed in a plastic tubular container. i will describe it once assembled as an RDTA when in RDA mode the Ultem tube and extension pipe is removed.
Up top we have an Ultem 510 drip tip which fits to the flat top surface of the sleeve/top-cap. The Sleeve/top-cap is one piece for performance purposes but the Stabwood section is held in place by 2 notches and an o-ring so can be removed for cleaning purposes, made of Stainless steel with the mentioned gorgeous stabwood section towards the top gives the Gather quite a unique look. The sleeve has an airflow slot one side and some sort of writing (in signature form) the other in Silver. Really not sure what it says but a little confused as it isn't "Gather" the name of the atty, and we also have "1" ringed. The colours of the stabwood section will be unique to each atty and the sleeve and base section of the one i received is Black, whether their are other colour options i have no idea.
We then have a Ultem tube tank section followed by the disc base. The base has Silver branding and serial number.
The build quality is excellent and in my opinion it's one very nice looking atty but of course that's entirely subjective.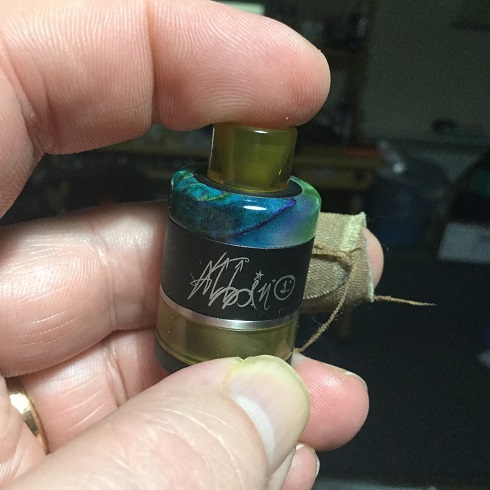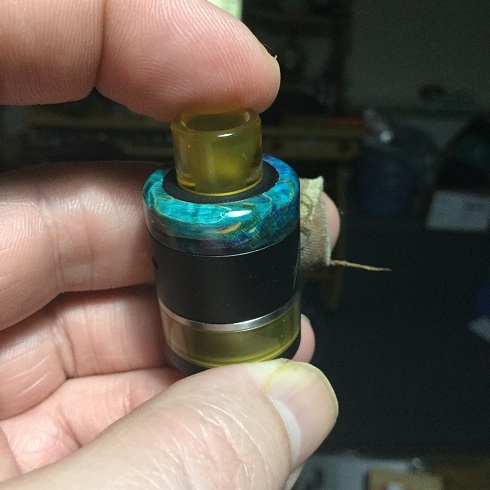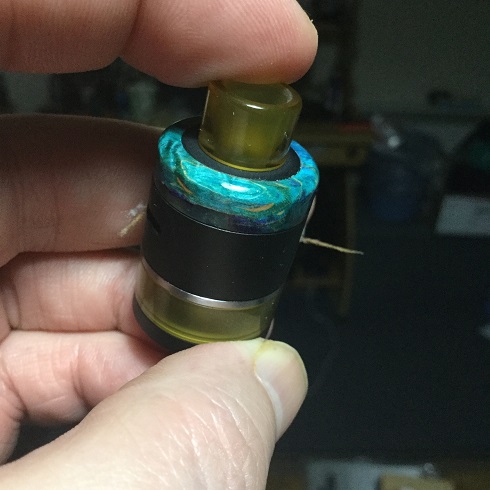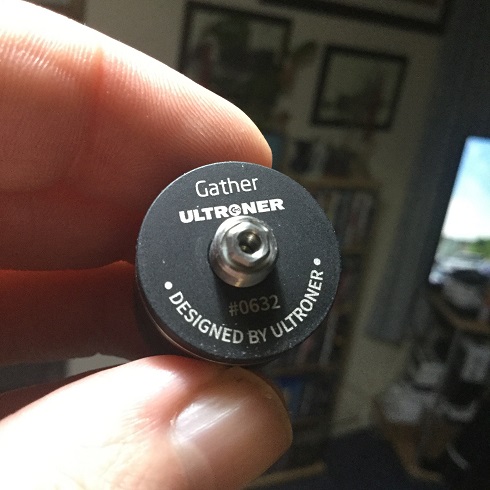 ___________________________________________________________________
Gather Specs and Features:
Diameter: 22mm
Height: 35mm
Capacity: 2ml
Materials: Stainless Steel/Ultem/Stabwood
Single Coil
RDA/RDTA Modes
Standard or BF Modes (both RDA/RDTA)
Filling Valve Top-Fill on deck/BF pin
One Sided Airflow
Airflow: Bottom/Lower Side by use of Inserts
Thread: 510
Colours: ? Stabwood Top Section Unique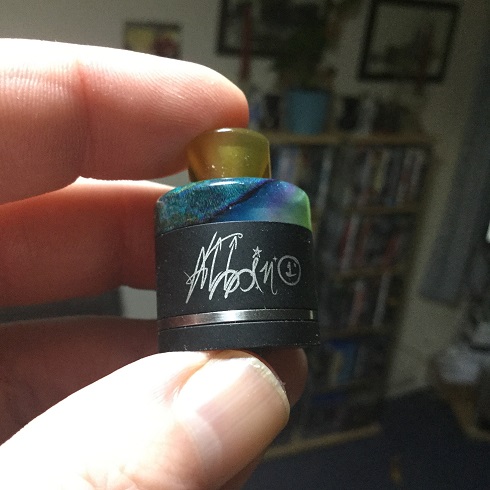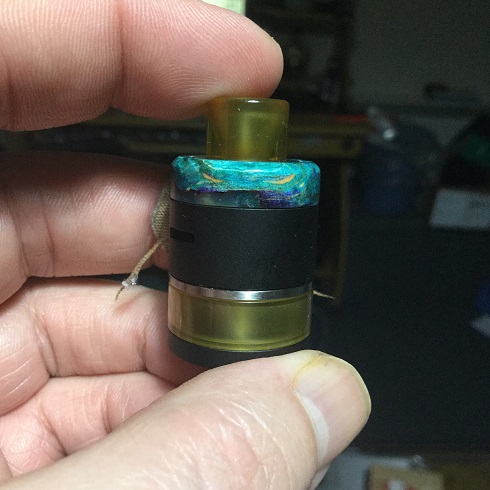 ___________________________________________________________________
What You Receive?
You receive the Stainless Steel sleeve/top-cap which has a gorgeous stabwood section at the top, pre-installed is a removable Ultem 510 so you can also use your own if you prefer.
You then receive the deck section which comes pre-installed with standard solid pin (a standard BF pin is also included). Next we have the base disc, the very thick Ultem Tube (nice) and extension tube with extended 510 threading.
We also receive standard and BF extension 510 pins for when in RDTA mode and a peek insulator for when using the extension pins. Also included is the Usual spare grub screws and o-rings as well as 2 different sized hexagonal wrenches.
Next we have 3 different Ultem airflow inserts and 2 Round wire MTL coils but no specs are given (as explained i actually have no specs on anything). Finally we receive a beauty ring with a loop to fit a lanyard which i can only see being of use when using with a 18350 tube mod but a nice inclusion anyway.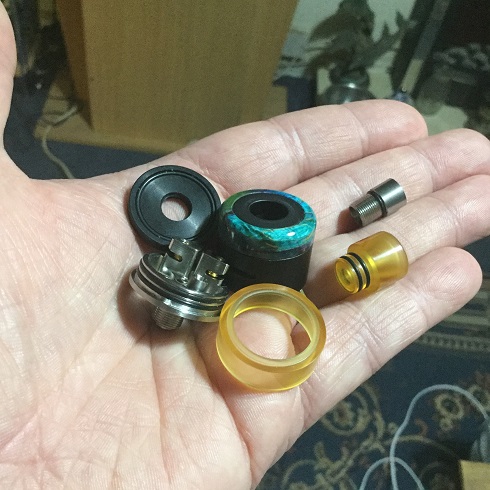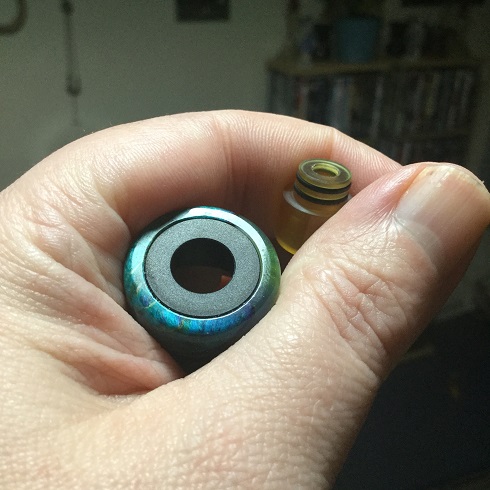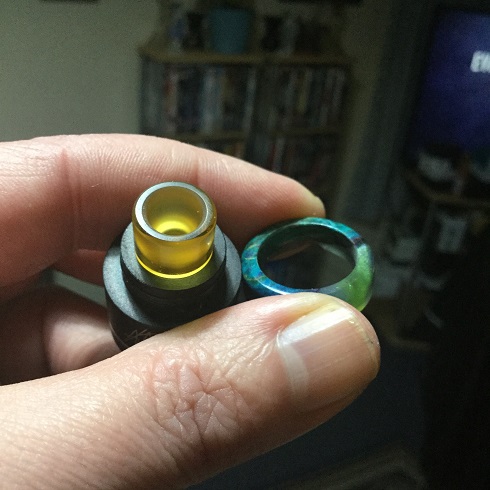 ___________________________________________________________________
RDA/RDTA
The deck comes pre-installed with a standard pin and to use the Gather as a standard RDA simply screw the base onto the 510 threading and the sleeve/top-cap get's used in the usual manner. To use as an RDA with BF pin simply unscrew the standard pin using the larger supplied hexagonal wrench and screw the BF pin in it's place.
If you want to use the Gather as a standard RDTA before screwing the base disc in place you need to screw the extension pipe onto the 510 threading which gives you some length of pipe and then new 510 threading. Now place the Ultem tube in place and screw the base disc over the threading, o-rings both secures and seals the Ultem tube section. We now have to place the supplied peek piece into the extended threading and screw the standard pin extension into place.
If you want to use as an RDTA in BF mode then before adding the extension pipe you need to swap for the BF pin. Once the base disc has been screwed in place as before you need to insert the peek but then screw the BF extension pin in place.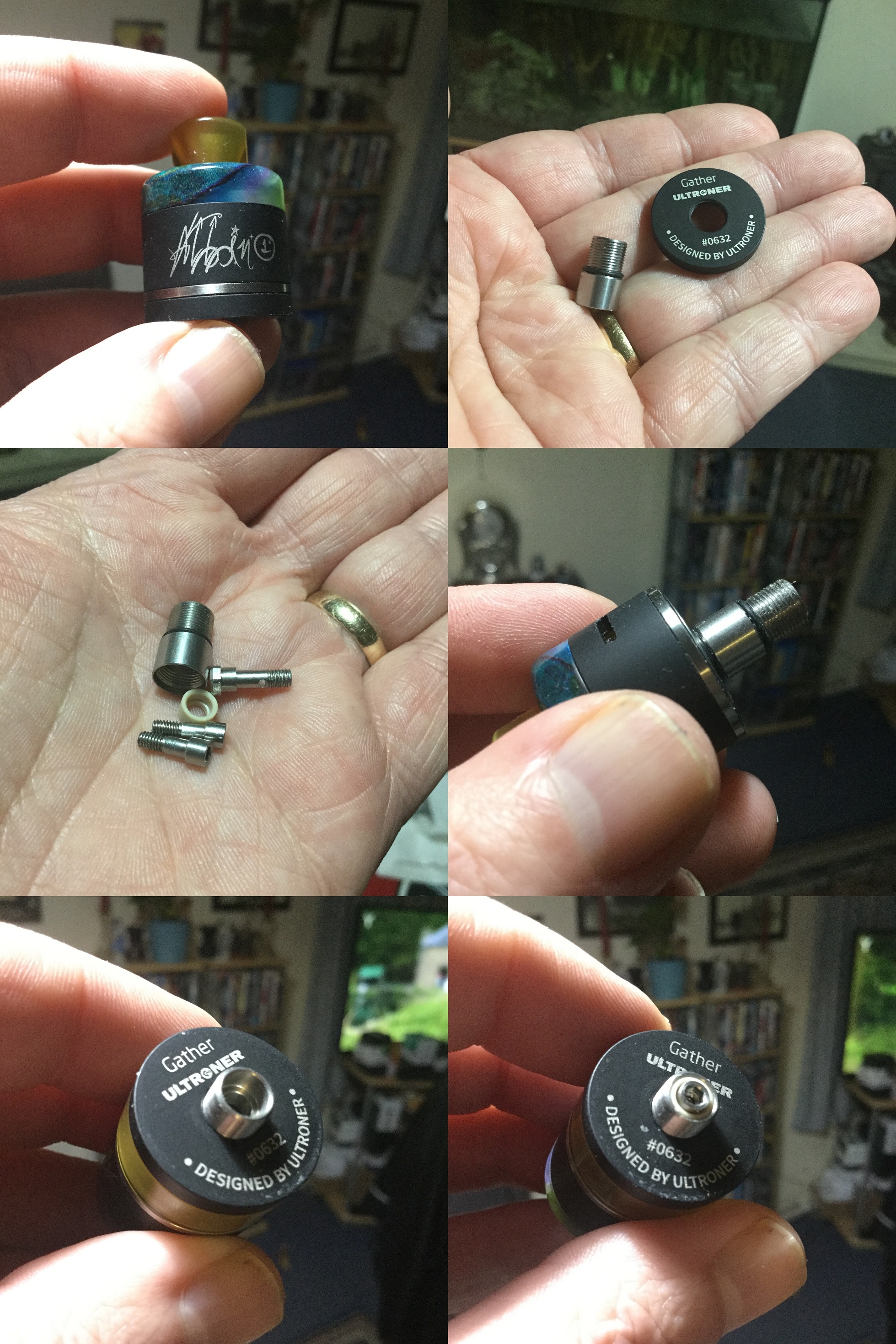 ___________________________________________________________________
Filling
The Gather when using as a standard RDTA can be filled using the fill valve positioned on the deck. I tried a few nozzles and they all worked fine, just push the valve in with your nozzle and fill. After filling withdraw your nozzle and the valve shuts, i found the valve worked great and filling was both quick and mess free however if you have glass dropper bottles you will need to decant to something more suitable first.
When using as an RDA or RDTA with the BF pin set-up then simply press the squonk bottle. The liquid comes out the top of the pin central on the deck directly underneath your coil and flows to the hollow sections either side that form the seats of your juice wells when in RDA mode or are your wicking ports when in RDTA mode.
___________________________________________________________________
The Airflow
The airflow relies on inserts for airflow options but the outer airflow inlet on the sleeve can't be adjusted for further precision. We have 3 inserts one has about a 4mm narrow slot which is slightly misleading as it's milled through the insert not just to slope downwards but also one side slopes inwards making it a smaller outlet as it's directed at the lower side and underneath the coil.
On one side of the deck we have the fill valve and then the insert sits next to that and appears offset to the coil, also when the sleeve gets fitted over the deck we have a notch that locks the sleeve in position so the airflow inlet on the sleeve lines up with the insert so again appears offset, the slot on the sleeve is a much bigger slot than the one on the insert it'self and is more the size of the whole upper insert section. The slot on the insert as mentioned is milled sloping both downwards and inwards one side, because it's only the one side that is sloped inwards the smaller slot outlet is to the inner side of the insert lined up to the centre of the deck so not actually offset as it appears.
We have two other inserts one with 2 separate 1mm (approx) holes and another with a single 1mm (approx) hole. Again the inserts appear offset to the coil but travel downwards at a left to right angle through the insert so the outlet lines up perfectly. The airflow from all inserts will be directed at the bottom side of the coil and kissing underneath giving lower side and bottom airflow. Finally with 2 large posts to one side of the deck and insert and valve to the other once the sleeve with the concave ceiling is in place we have quite a reduced chamber area which should encourage flavour.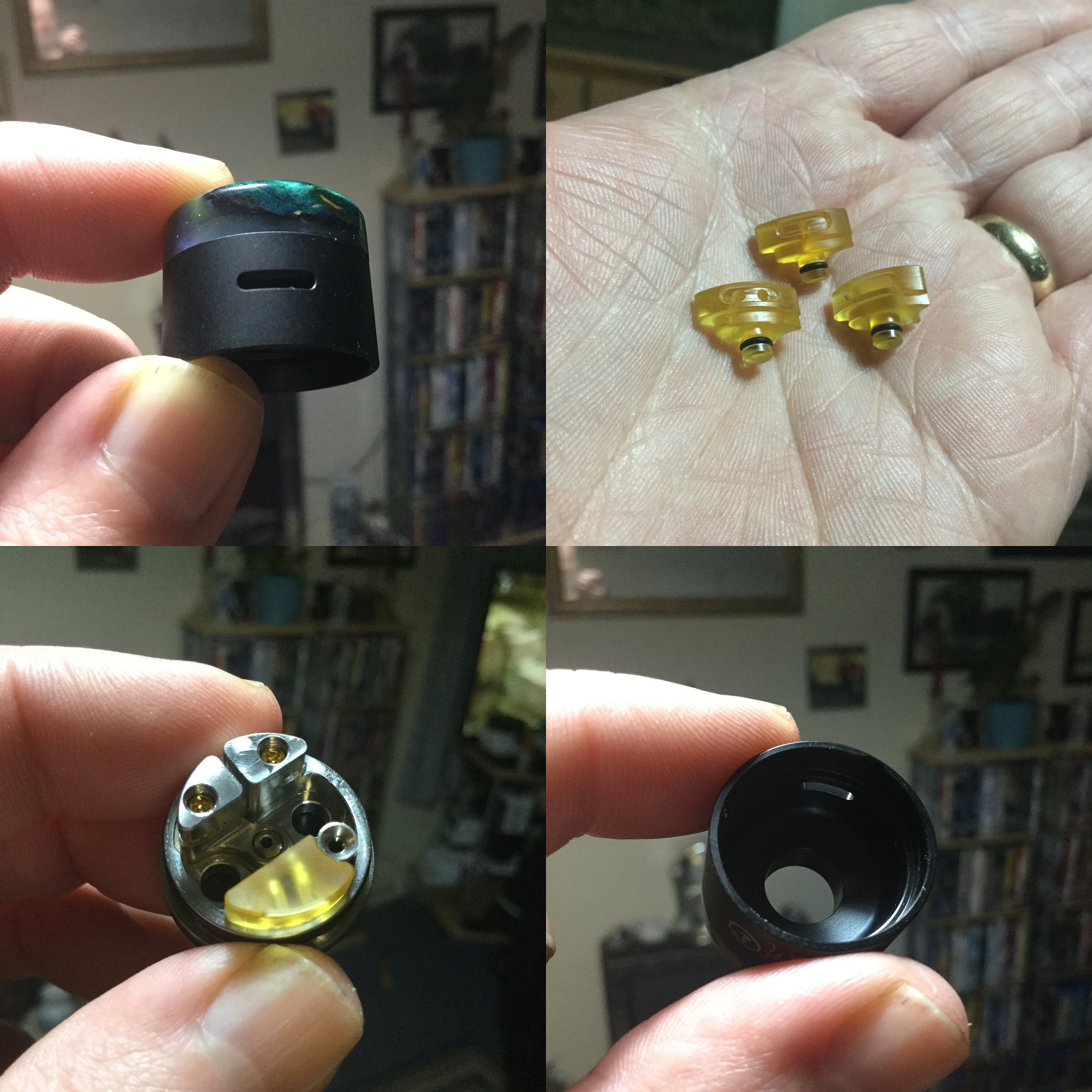 ___________________________________________________________________
The Build
Pictured is the build i did in RDTA BF mode but also (again with BF pin installed) did a build in RDA mode and the only difference is obviously wicking which for both is straightforward simply wick as you would any other RDA or RDTA. I used both supplied round wire coils which are 3.0ID one for each build, the pictured RDTA build came out at 0.46ohm and the RDA build 0.45ohm.
We have both large posts side by side so your leads need to face the same way and i would not install an airflow insert until after doing your build to give you plenty of space to work in. We have an angled slot with lip on the outer side of each post, slots angled downwards help prevent your leads popping out while fixing into place as does having a lip so having both means there is pretty much zero chance of having any issues making it a very easy single coil build.
With both leads slotted into place and holding the coil centrally over the top of the pin you can secure your leads from above tightening the very good quality, Gold plated hex screws (my favourite). If needed use a coiling rod or fit for purpose tool to improve the position of your coil and then snip your leads.
After pulsing to burn off any residue from manufacture and get rid of any hot spots, wick and then put whichever insert you want to use in position, job done!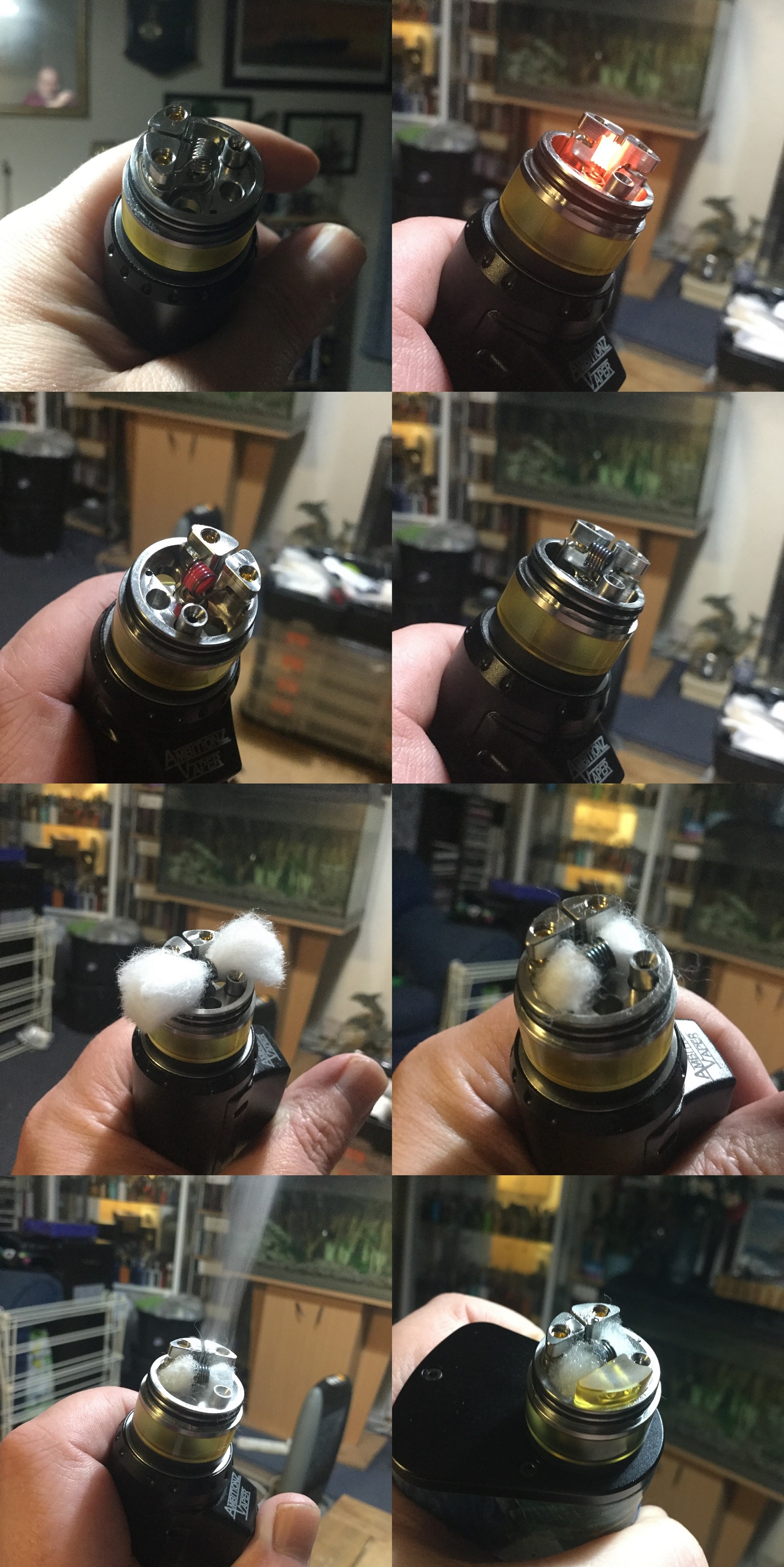 ___________________________________________________________________
How It Vapes And My Thoughts!
I tried the Gather first in RDA mode with the BF pin and then mainly with the pictured build in RDTA mode again with BF pin. Before settling down to squonking i filled the tank on a few occasions using different nozzles to check how it fills as if i was using as a standard RDTA and i am very impressed with this valve filling method it was quick and mess free. As for using the Gather in standard RDA mode just from trying as a BF RDA i can't see any reason whatsoever why it shouldn't work well with a standard pin.
The only thing worth mentioning about filling is because the liquid comes out the top of the BF pin directly on the deck because it needs to do it this way while being used as an RDA the liquid also enters the deck rather than the tank directly when using as an RDTA. This gave me no issues but i did use this RDTA a little differently than i normally use RDTA's with a BF pin taking this into account. Normally i wait until the tank is quite low before i give the squonk bottle many presses to fill the tank up. With the liquid entering the deck from the squonk pin instead i just gave the bottle a couple of presses after every few vapes going for a little but often approach and it worked brilliantly!
As for airflow more adjustability to go with the inserts themselves allowing for more precision would be better but the three inserts all give very different draws, they can also be swapped on the fly. The single hole insert gives quite a tight draw so very suitable for those that like a cigarette type pull, The dual hole which is the one i used the most gives a mid to loose MTL draw but still very much a MTL vape. Finally although i didn't use it quite as much as the dual hole insert the slot insert was actually my favourite which gives you the option of either a very loose MTL or restricted direct lung hit. I did wonder with having air coming from one side if that would affect performance but while vaping i forgot this was the situation and the airflow is quite smooth.
When it comes to flavour it doesn't pull up any trees but then again i can't actually complain as it's pretty decent and it's even possible messing around with different builds more potential may be unlocked
I have already mentioned even more airflow adjustability would be better and also like all these atty's that use inserts they could get lost if you are not careful. The Gather can be changed from RDA to RDTA very easily and being able to use as both is a big pro but again it does add more small parts that could get lost. I do like the matchy matchy look of the Ultem drip tip with Ultem tube section and it suited the Gather when using with the slot insert both for a loose MTL draw or restricted direct lung hit but i switched to a longer drip tip with narrower bore when using with the other 2 inserts as this suited the tighter draw much better.
With the airflow inlet/inlets starting quite high and sloping downwards i didn't have any leaking issues and lastly the build quality is absolutely fantastic!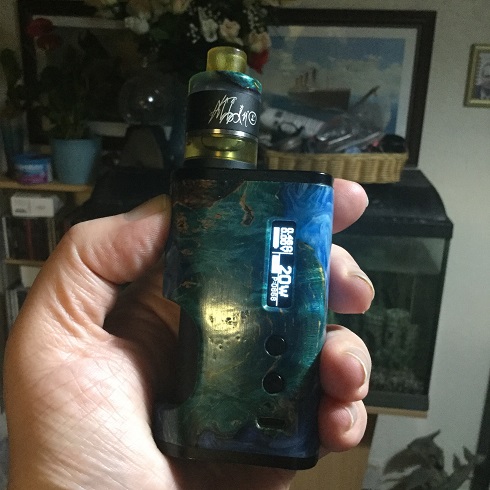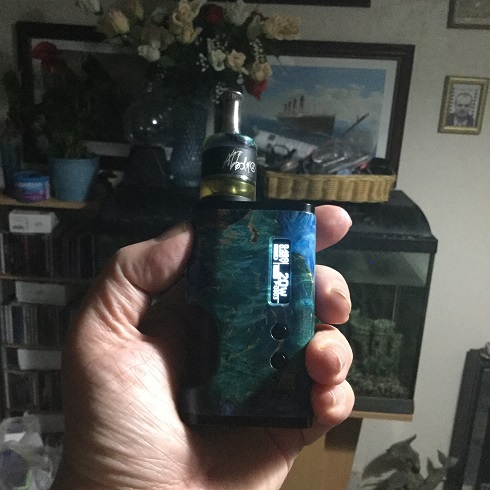 ___________________________________________________________________
Likes
High End Build Quality
Gorgeous Stabwood section (unique to each atty)
Aesthetically pleasing (subjective)
Matching Ultem tube and drip tip
Not Jack of all trades but both a high standard RDA and RDTA
Included standard and BF pins + extensions
RDA and RDTA can both be used with standard or BF pins
Worked great with BF pin as both RDA and RDTA
Can be converted from RDA to RDTA with ease
Very easy build
Fantastic quality Grub Screws
Great performing fill valve (quick and mess free)
3 Ultem Inserts giving very different draws
Inserts can be swapped on the fly
Locking sleeve/top-cap
Smooth airflow
Decent flavour
Didn't have leaking issues
Cons
Airflow inserts could easily get lost (nature of atty's that use inserts)
In general because it's a RDA/RDTA hybrid many parts (again could easily lose a part)
Drip tip not well suited for tighter draws
Even more airflow adjustability would allow more precision
If using Fill valve glass dropper bottles will not be suitable
No Coil Specs given
I would once again like to thank both Linky from Sacowin and Ultroner for supplying the Gather RDA/RDTA for the purpose of this review.
https://www.sacowin.com/
___________________________________________________________________