Reviewer, DIY Lover & Flavor Chaser
Joined

7/6/16
Posts

2,285
Awards

30
Age

36
Location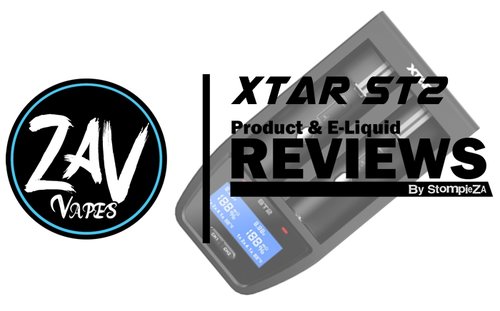 XTAR has sent me their latest 2bay fast charging charger with its new design, looks and ability to charge at a whopping 4.1A x 2
.
This charger also now gives the user the ability to manually change the charging current! Sounds interesting? well have a look below!


Item Name :
XTAR ST2 Fast Charging Charger
Manufacturer:
@XTAR
Website: https:
http://www.xtar.cc/
Cost:
N/A
*DISCLAIMER: This product was supplied to me by @XTAR for the purpose of reviewing the product for them and providing my personal feedback and opinion.
Let's start off with some pictures:
Powered on with no batteries inserted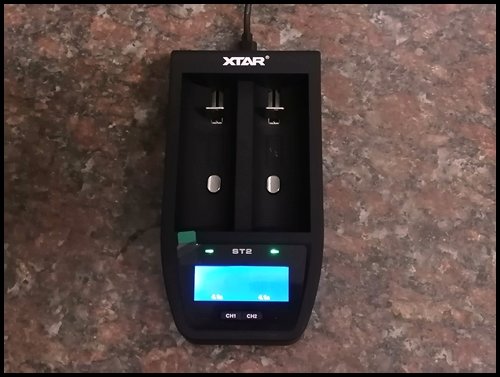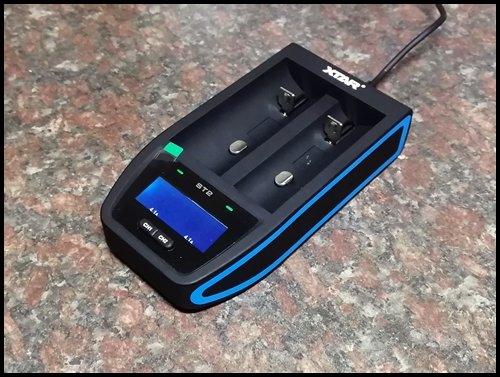 Bottom View - Good rubber feet and ventilation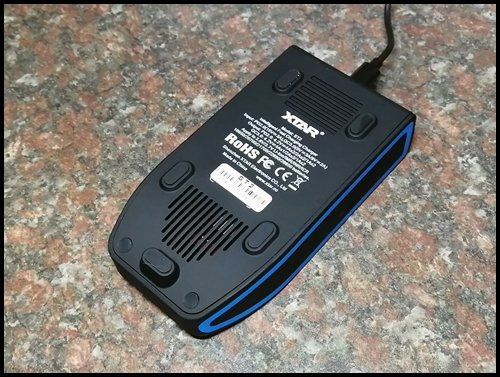 Charging 1 x 18650 Battery in 4.1A (Just for illustration purposes)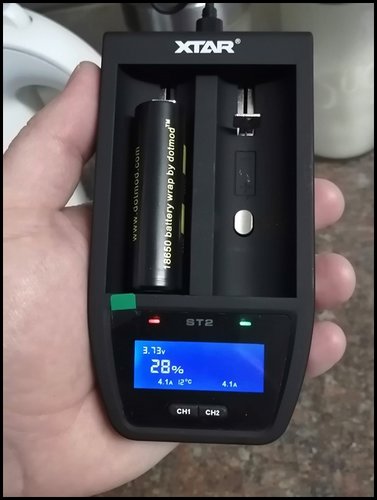 Charging 2 x 18650 Batteries in 2A Mode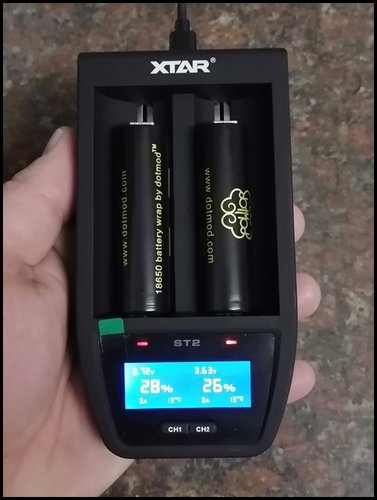 Charging 1 x Battery in 2A and another in 1A Mode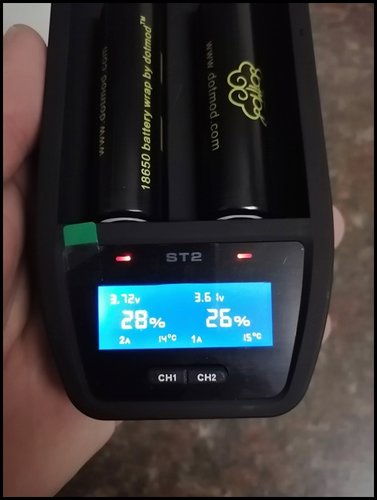 Charging batteries in 1A Mode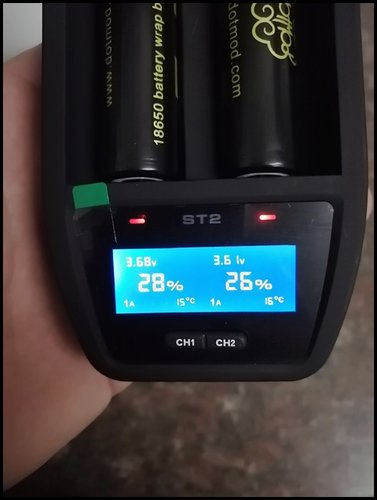 Battery terminals are turned around with Positive facing the user.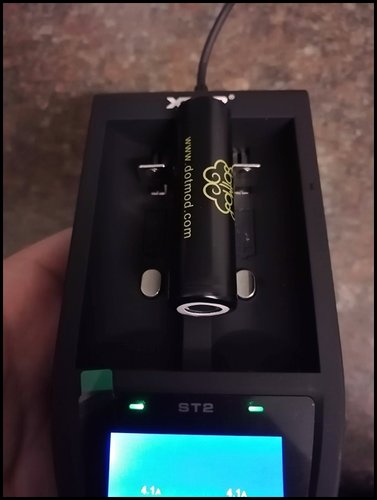 The charger was sent to me without packaging as I assume it was still in design, so I was only send the charger and the USB cables.
What's inside the box you ask?
1x Charger
1 x USB-A to USB C Cable
1 x USB-C to USB-C Cable
Technical specifications are also important, so here they are:
ST2 Charger Technical Specs:
Input:
PD2.0(15V=3A), QC3.0(5V=3A/9V=2A)
Output:
PD2.0: 4.2v=4A x 2/2A x 2/1A x 2
QC3.0: 4.2v=4A x 1/2A x 2/1A x 2
Apply to 3.6V/3.7V Li-ion/IMR/INR/ICR
What types of batteries can you charge?
18650/20700/21700/22650/25500/26650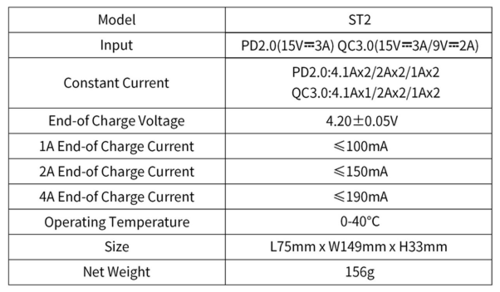 Features:
Ultra-fast Charging for Two Slots
Max 2x4.1A, the fastest charger ever
Protection test of internal battery resistance
Battery temperature test with overheat protection
1A / 2A / 4.1A optional current for each slot
OV activation restores the over-discharged batteries

Built with fireproof material to extend the life of the loader and ensure safety.

LCD information screen

Type C port, double rapid recharge protocol

Delicate design, excellent touch sensation

Manual and automatic, flexible control

Simple operation, clear display

Small and portable, stay in one hand
What do I think about this Charger?
I absolutely like this charger due the fact that you can now manually change the charging current between 4.1A, 2A and 1A depending on your input power. Using a normal QC3.0 charger you can charge 1 battery at 4.1A (not recommended for 18650 but rather for 20700 or 21700) or can charge two 18650 batteries at either 2A or 1A. The charger also allows changing each battery charging current separately for when not charging married batteries. You can charge 1 battery at 2A and the other at 1A if required.
When using a QC3.0 charger, you wont be able to charge two batteries at 4.1A as the charger will power down without warning due to the input but when using the USB C cable with a PD2.0 charger you will be able to charge two batteries at 4.1A.
I found that it was best to power up the charger first before adding batteries. If batteries are inserted and the charger is then powered up it seems to confuse the charger causing it to not detect the charging current. This causes the charger to get stuck in 4.1A charging mode and if you are using a QC3.0 charger, the charger will continuously turn on and off until the batteries are removed and reinserted. This will not happen if you use the PD2.0 charger.
Note: I did not test the charger with a PD2.0 charger as I do not have one available.
Thermal protection:
The charger monitors the battery temperature throughout the charge. If the battery temperature is too high, the device will automatically reduce the charging current to protect the battery.
Note: when the temperature is above 60 ° C, the charger automatically stops charging; when the temperature decreases, users must remove and re-insert the battery to continue charging.
What about Looks?
The charger is finished in matte black with a rubbery feel to it and popping blue lines on the side. The LCD screen is bright and of a nice size with all the information clearly visible for the user. The LCD screen provides the Charging Current, Battery Temp, Battery Percentage as well as battery Volts.
LED indicators:
Green: standby / charge complete / contact defective / polarity reversed
Red: charging / activation in progress
No light: power supply disconnected
Turn on / off the backlit screen:
The display goes dark one minute after the end of use. Press and hold the CH1 or CH2 button for 1.5 seconds to dim the screen and reactivate each function.
Protection
My Pro's
Manual current selection for charging batteries – 4.1A / 2A / 1A
Intelligent battery detection
Temp sensor for safe charging
Great design, Look and feel
Excellent protection

Fast charging

Small and portable
Change over to the latest USB-C type.
My Cons's
Does not include a QC3.0 or PD2.0 power supply. Really think this should be included for chargers.

Trying to charge at 2 X 4.1A using a QC3.0 charger should rather give an error instead of the charger switching off or it should rather automatically detect and change to 2A.
My Verdict?
For the past 2 months i have been using my VC4S XTAR charger and love it but now i have fallen in love with the ST2 from the way it looks to the way it works, its really a great charger that works great and has excellent features! I would love this exact charger in a 4 bay design!
Would I buy one or recommend one?
Absolutely! The fact that you as the user can now change the charging current means that XTAR listened to all of us and have changed the way forward for XTAR!
Hope you guys enjoyed my review of the XTAR ST2 Charger and look forward to all the likes, feedback or questions!
Big thanks to
@XTAR
for sending me this unit to test and review for them!