Hi Ecigssa members, In this review i take a look at the Kriemhild II Sub ohm Tank from Vapefly. The Vapefly Kriemhild II Sub Ohm Tank was supplied for the purpose of this review by Mindy from Vapefly!
https://www.vapefly.com/Vapefly-Kriemhild-2/
https://ecigone.co.uk/products/vapefly-k...0256580786
Introduction
Vapefly have become one of the most respected vape manufacturers and in my opinion deservedly so. In this review i look at their latest sub ohm tank, the updated version of the Kriemhild, the Kriemhild II!
The Kriemhild II has mainly cosmetic updates to the German 103 Teams original design and accommodates the new K-series FreeCore coil heads which see's the introduction of their new patented Duplex Mesh 0.2ohm coil head.
The Kriemhild II comes in Peace and War versions with the War version having a narrower glass and upper metallic sleeve, of course there is also a TPD version available!
___________________________________________________________________
In The Box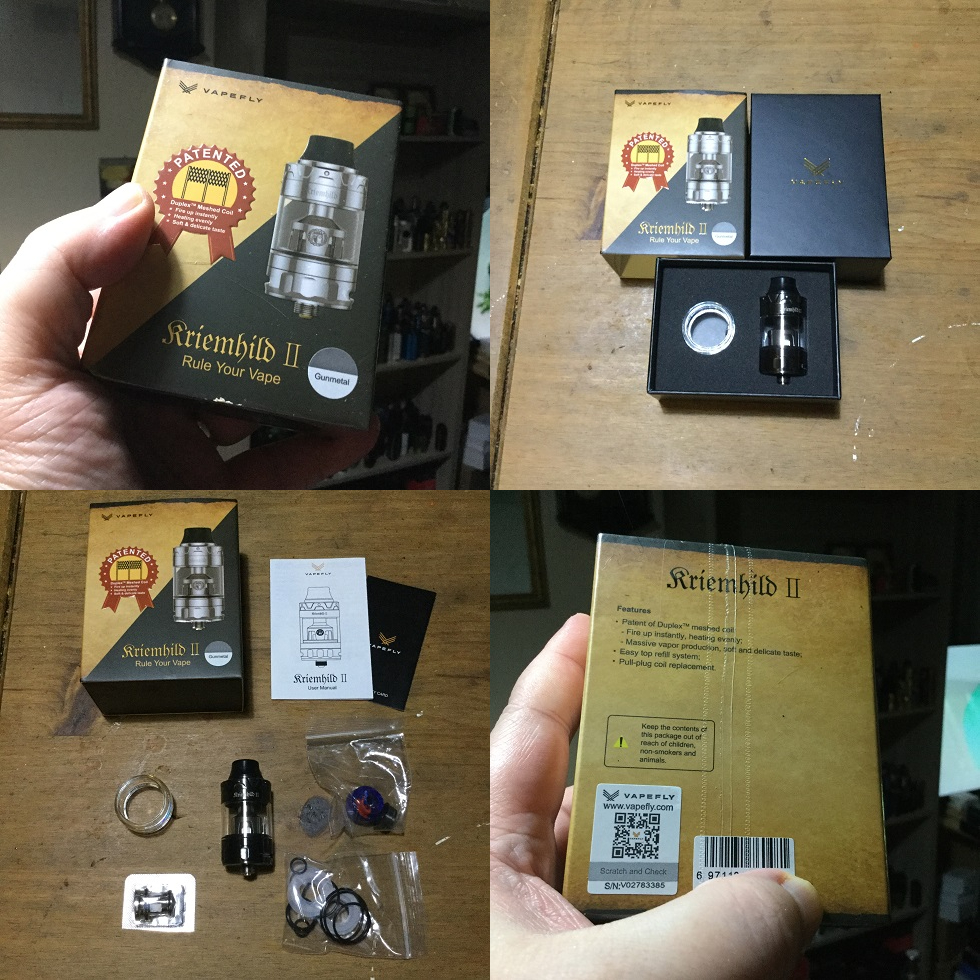 Contents:
Standard Edition-P Version
1 x Kriemhild II (P version)
1 x FreeCore K-1 Duplex Mesh coil 0.2ohm, KA1
1 x FreeCore Mesh coil K-2 0.3ohm, KA1
1 x Bubble glass 5ml
1 x 510 adapter
1 x Accessories
Standard Edition-W Version
1 x Kriemhild II (W version)
1 x FreeCore K-1 Duplex Mesh coil 0.2ohm, KA1
1 x FreeCore Mesh coil K-2 0.3ohm, KA1
1 x Bubble glass 5ml
1 x 510 adapter
1 x Accessories
TPD Version
1 x Kriemhild II (TPD version)
1 x FreeCore K-1 Duplex Mesh coil 0.2ohm, KA1
1 x FreeCore Mesh coil K-2 0.3ohm, KA1
1 x Glass tube 2ml
1 x 510 adapter
1 x Accessories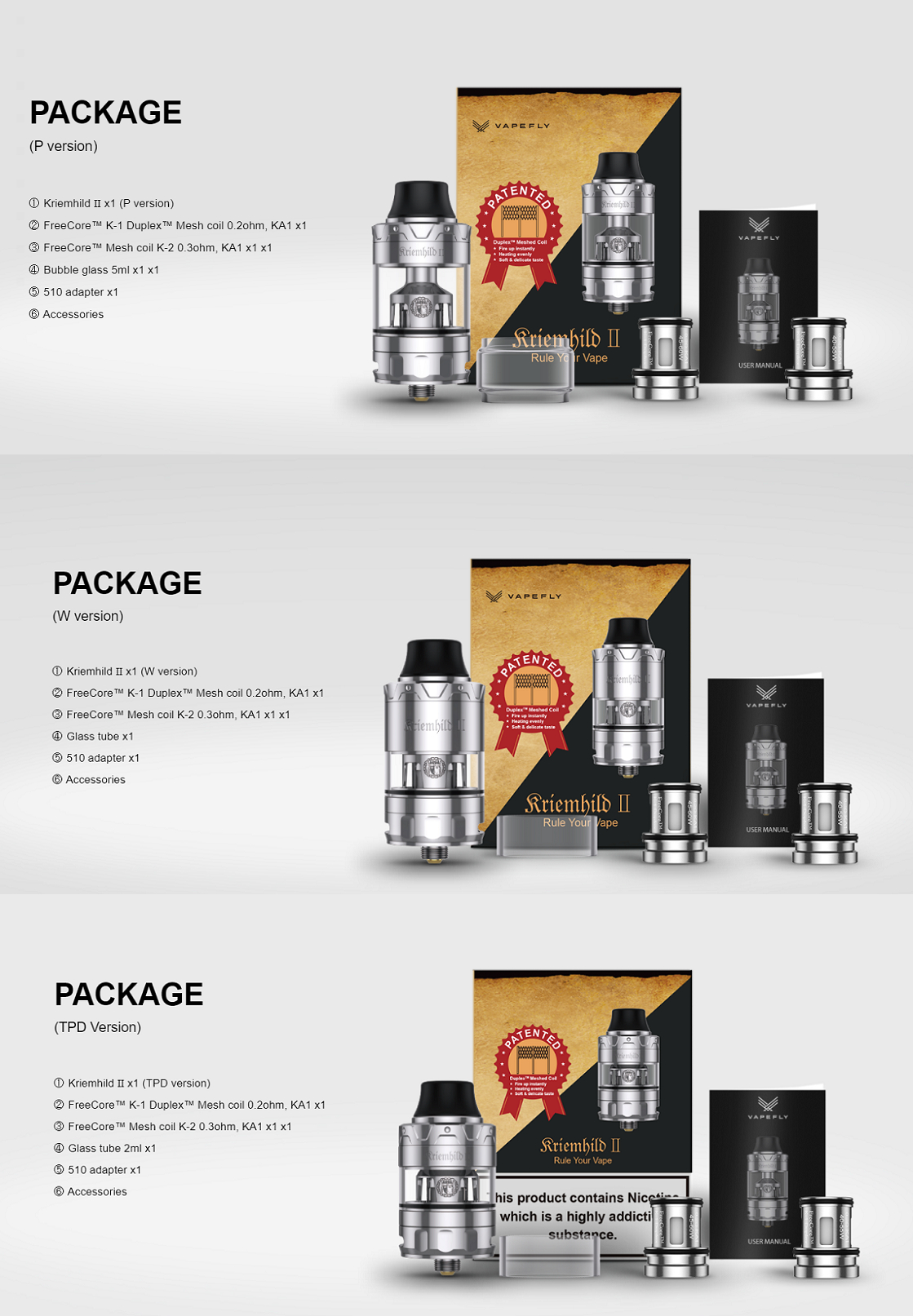 ___________________________________________________________________
Aesthetics
The War version has mentioned has a upper metal sleeve and narrow glass but the same 4ml capacity, there is also a TPD version which has a shorter chimney section and same narrow glass making the whole tank shorter. I received the Peace version in Gunmetal, the options are Stainless Steel, Black, Gunmetal, Gold or Blue, just to point out the Gunmetal is such a dark Gunmetal in anything less than perfect light it looks Black.
Although the new version of the Kriemhild doesn't this time around appear to be a collaboration with the German 103 Team it retains a Germanic look and keeps the same fancy font! The Kriemhild II is 25mm in diameter at the base and 51.2mm in height, up top we have a 810 Delrin tapered drip tip fitted to a castle design top-cap with a flat roof so no sharp edges like similar castle effect designs. We have Kriemhild printed in White in that fancy font on the front of the top-cap that attaches to the fill plate followed by the glass section.
Through the glass both the Stainless Silver chimney and coil chamber with wicking ports are clearly visible and the chamber extends out at the base to provide an 0-ringed shelf for the glass to secure too! The base section has dual large cyclops and vertical machined design all the way around. Turning the tank upside down reveals a protruding Gold plated 510 pin, branding and safety marks.
As expected from a Vapefly product the build quality is very good and i personally find the Germanic influenced design pleasing to the eye!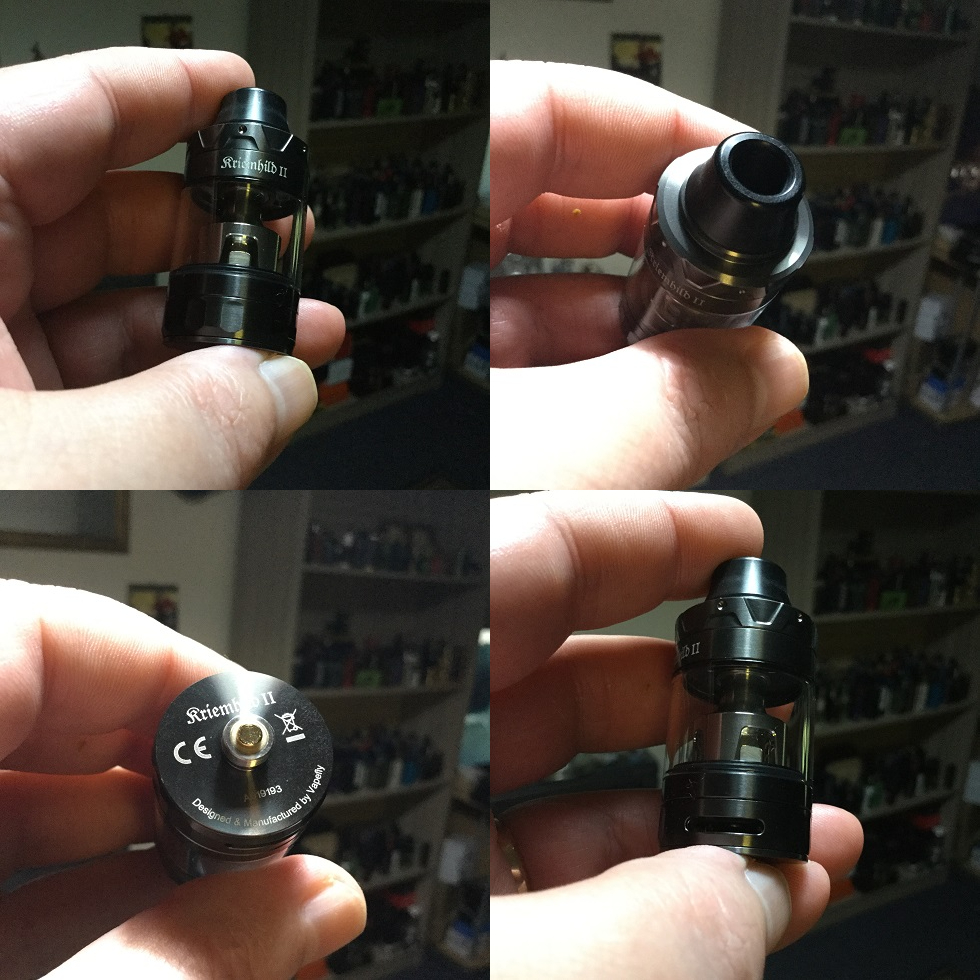 ___________________________________________________________________
Kriemhild II Specs and Features:
Dimension: 25.0 x 51.2 mm
Capacity: 4ml/5ml (bubble glass)/2ml (TPD)
Coils: FreeCore K-1 Duplex 0.2ohm mesh coil, KA1 (45-60W)
FreeCore K-2 0.3ohm mesh coil, KA1(40-55W)
Drip tip: 810 (510 adapter included)
Newest Duplex patented mesh technology
4ml/5ml/2ml capacity meets your different needs
Easy top refilling for easy operation
Bottom airflow system for dense clouds
Firing up instantly, heating evenly
Thread: 510
Colours: Stainless Steel, Black, Gunmetal, Gold, Blue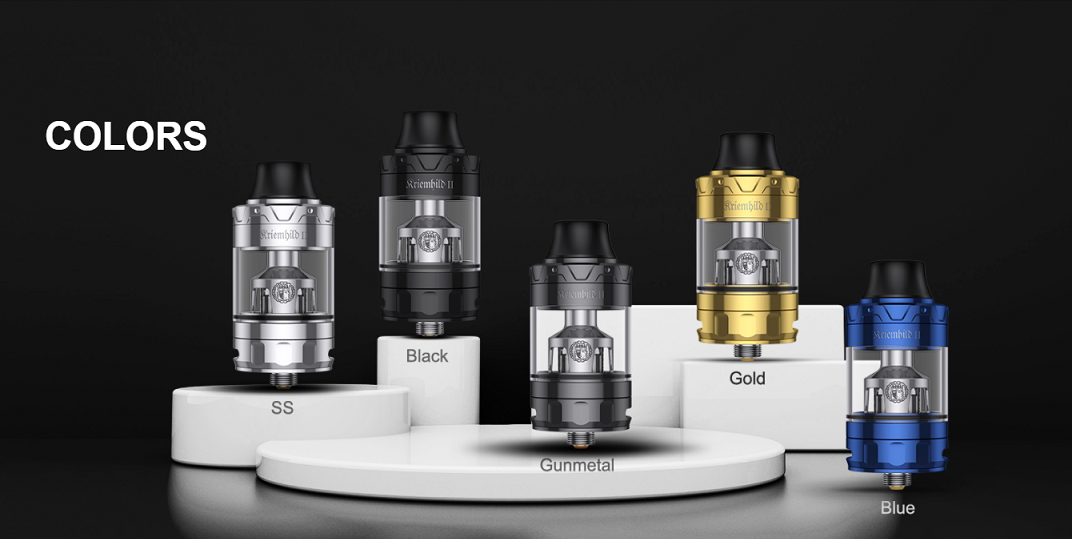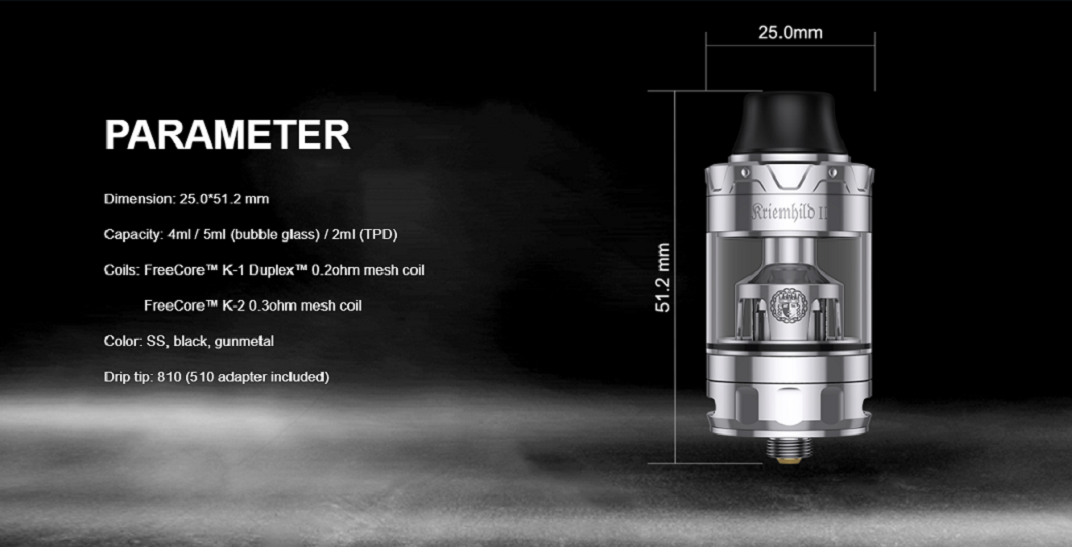 ___________________________________________________________________
What You Receive?
I received the Kriemhild II (Peace version) with pre-installed straight 4ml glass, tapered 810 delrin drip tip and installed Duplex 0.2ohm mesh coil. Both the War and TPD version has a narrower glass but the War version also as an upper metal sleeve retaining the 4ml capacity while the 2ml TPD is just shorter, the spare glass for both these versions is identical to the pre-installed narrow glass!
As well as the usual paperwork i also received a 5ml bubble glass, really nice Resin 810 alternative drip tip, 510 drip tip adaptor, a K-series FreeCore 0.3ohm mesh coil head and a bag full of spare rubber seals and O-rings!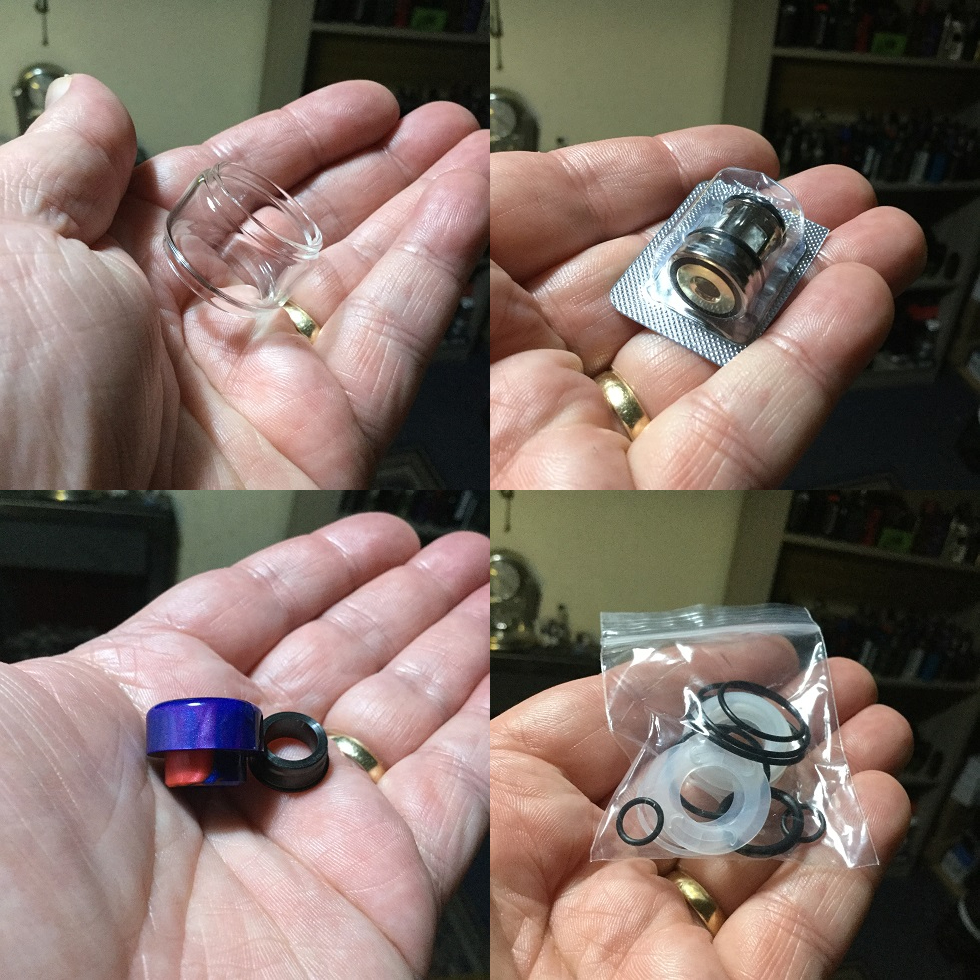 ___________________________________________________________________
It's Various Parts!
Up top we have an 810 drip tip with the option of fitting a 510 adaptor, the top-cap has a bayonet fitting which once removed reveals the fill plate with self sealing membrane and a silicone seal to the inner section of the top-cap for a really good seal.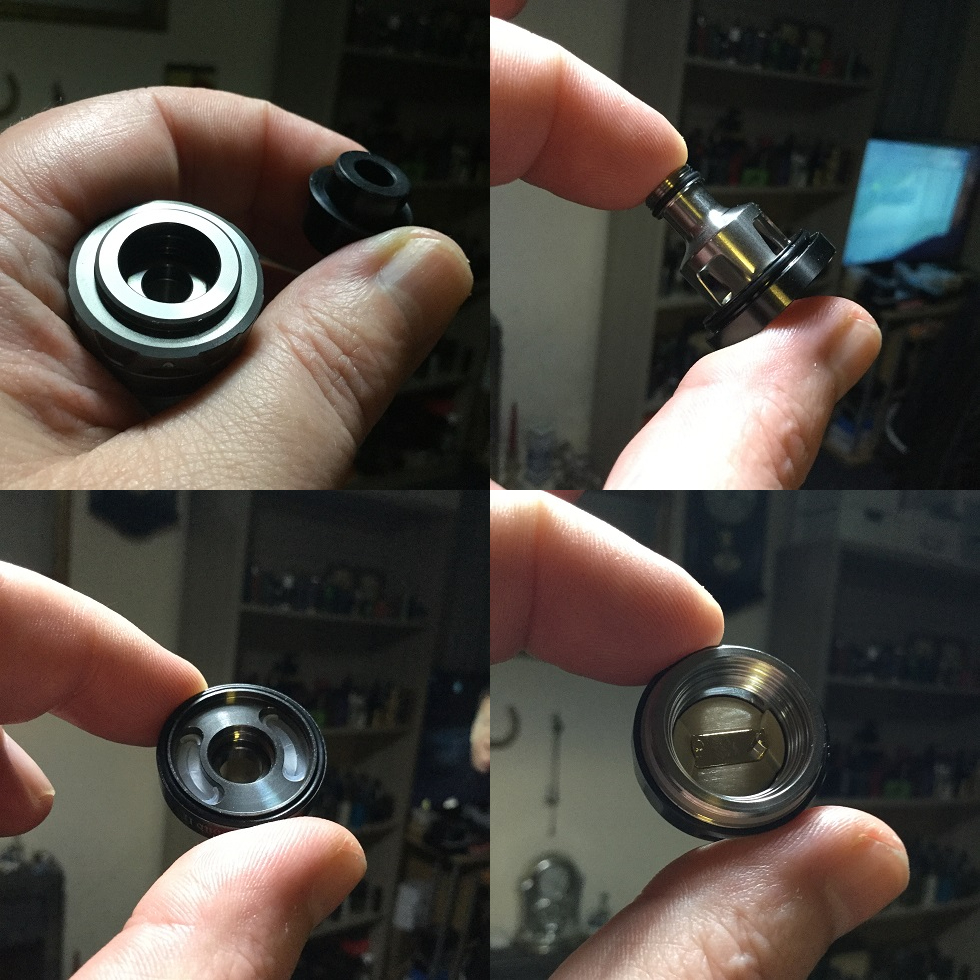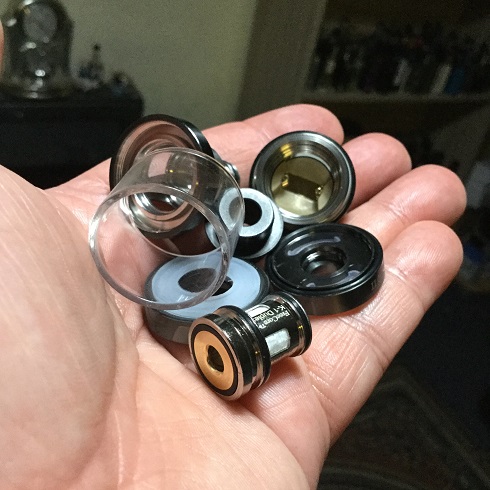 The base section unscrews counter clockwise revealing the Kriemhild II accommodates plug and play coil heads that fit into a chamber which host wicking ports. The chimney which extends from the chamber screws to the bottom of the fill plate and also extends at it's base to create a shelf for the glass to sit on. To remove the glass just unscrew the chamber/chimney section from the fill plate which also reveals the glass gets sealed both top and bottom with O-rings, before reassembling if you wish you have the option of fitting the included 5ml capacity bubble glass!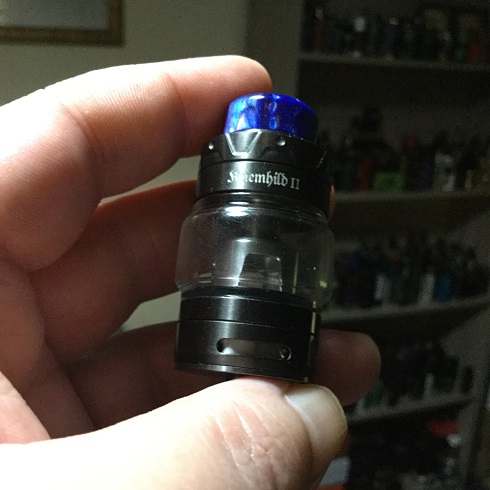 With 5ml bubble glass and included alternative drip tip!
___________________________________________________________________
The Coils and Fitting!
As mentioned the Kriemhild II accommodates the new K-series FreeCore mesh coil heads which just get press fitted into place then secure by fastening the base section into place.

Maybe to be harsh a con is the two provided coil heads are the only two available and i would much prefer more options, it does say an RBA is on it's way which is a pro but until it arrives i have to consider the tank without one as many times in the past a promised RBA has never arrived!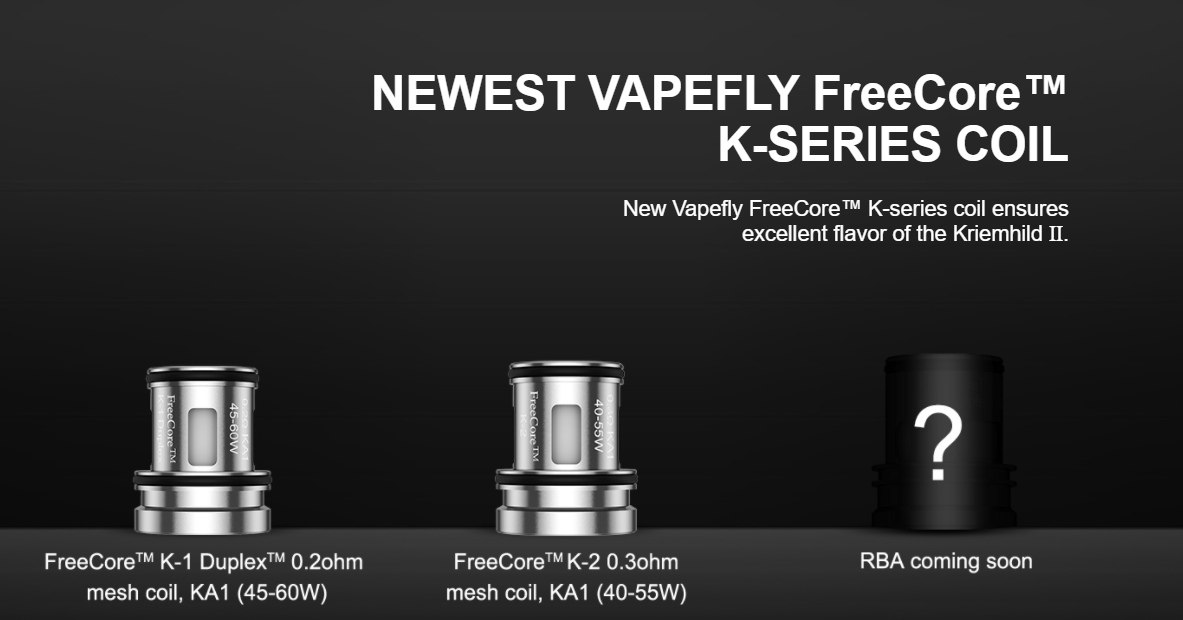 The main marketing for the Kriemhild II revolves around the patented Duplex 0.20hm mesh coil head which is pre-installed. Rather than having a mesh strip with a negative one end and positive the other it has two strips of mesh each half the length which share a central positive pin and each having an independent negative, essentially this means the mesh heats up twice as quickly and much more evenly improving vape quality and the improved ramp up is very noticeable!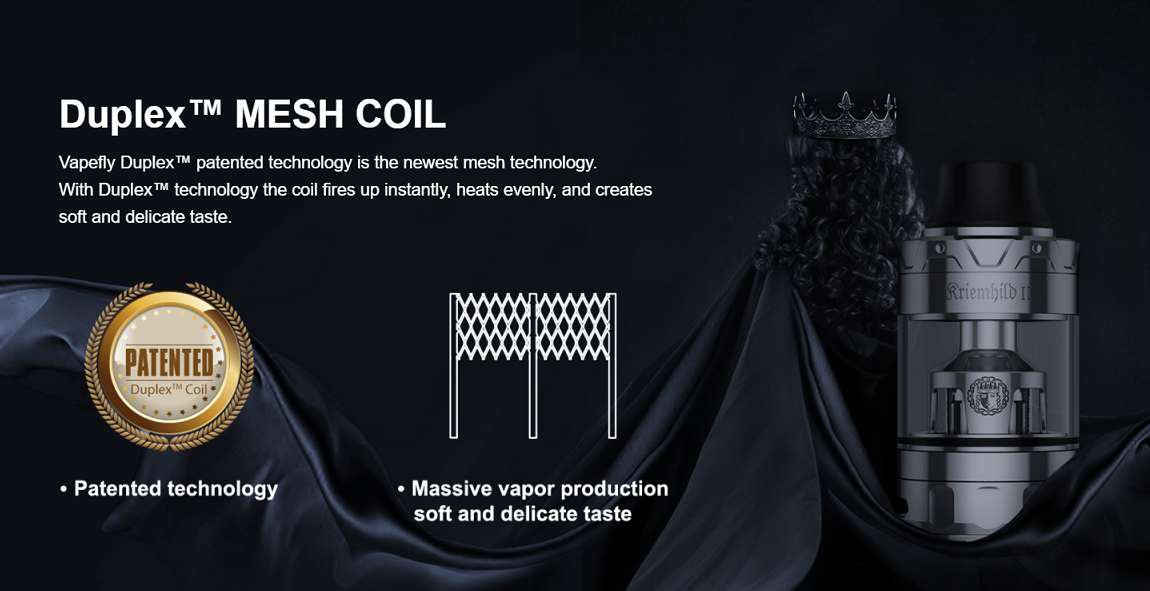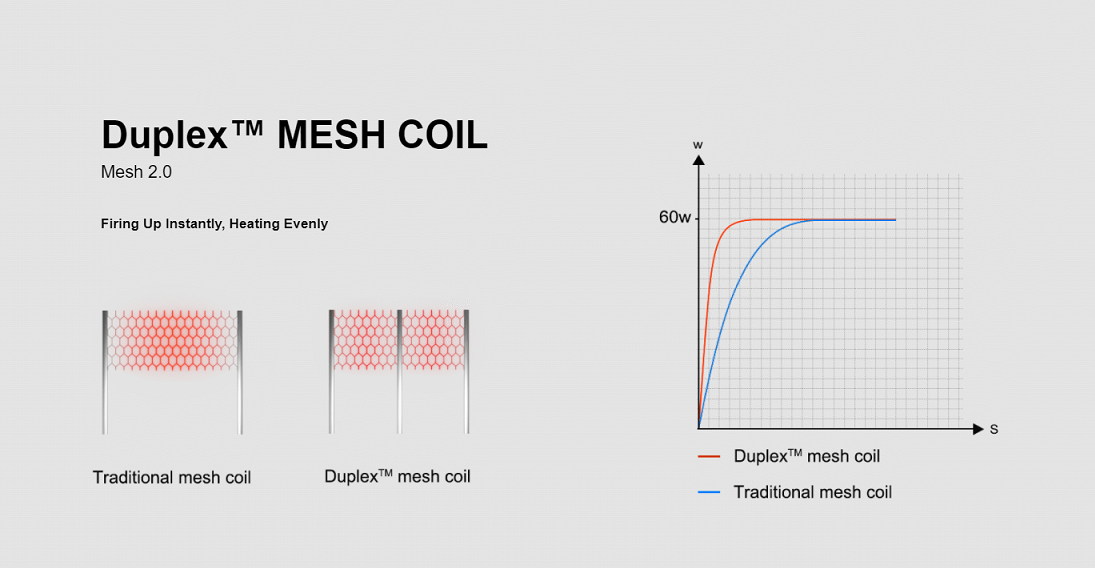 As well as the K-1 Duplex 0.2ohm mesh coil head which is rated between 45w to 60w you also receive the K-2 0.3ohm mesh coil head which is rated between 40w to 55w!
___________________________________________________________________
Filling
The Kriemhild II has a top-cap with bayonet fitting (my favourite) so just a quarter turn and it's off! The fill plate has 2 large kidney fill ports with membrane seal, if you don't like the seal i don't see any reason why the tanks vacuum would be compromised if removed due to the seal to the inner side of the top-cap. I never tried to remove the membrane seal personally but as a spare is included then it obviously can be!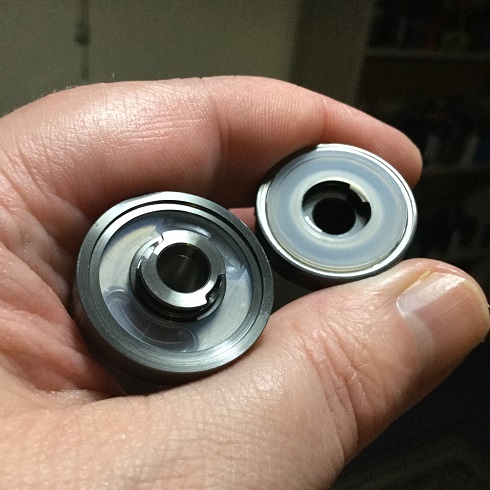 The Kreimhild II holds 4ml of liquid (Peace and War versions), 2ml (TPD version) or 5ml with the bubble glass fitted to the Peace version, once filled again it's just a slight turn to secure the top-cap!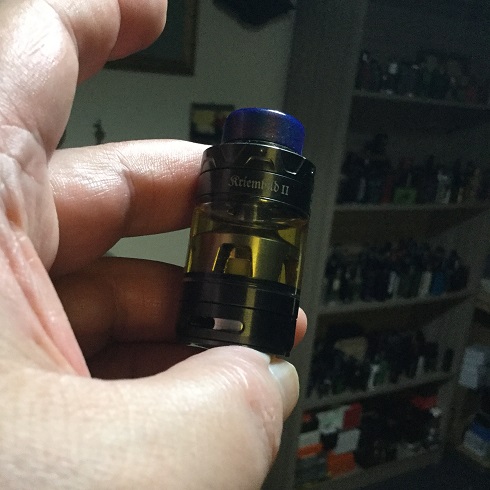 ___________________________________________________________________
The Airflow
The Kreimhild II is mainly designed for DL or a semi restrictive direct lung with it's two large cyclops with stoppers! However after testing the tank at different wattages and airflow settings being someone who prefers more restriction i found with a 510 drip tip fitted and airflow only a fifth open both coils set at 5w below their recommendation gave a decent RDL! Finally the airflow adjusts very smoothly with just the right tolerance!
___________________________________________________________________
My Experience and How It Vapes!
I must point out sub-ohm tanks with stock coils is not really my thing and only tend to test them if something stands out which was the case here with the patented Duplex coil head!
I wont ignore it despite thinking it might of been user error but the first time i filled the tank with either coil head i suffered quite bad leaking out of the airflow slots, i did make sure everything was re-tightened and then no more problem so either user error each time i fitted a coil or it does flood through the coil on first fill, with further fills and during use i had no leaking issues whatsoever!
Sub-ohm tanks tend to be quite loud and can be turbulent, the Kriemhild II certainly isn't quiet as the coil head sizzling can be clearly heard but it's by no means especially loud and definitely not turbulent giving a smooth vape however the airflow is set!
I can see possibly those into their sub-ohm tanks getting the wow factor trying the new Duplex coil head because the flavour is up there with the Freemax coils and the quicker ramp up is definitely evident. I also found the 0.3ohm coil head gave very decent flavour but overall just wish there was more coil options.
Both coils will comfortably go 10w above their recommendation if you like a hot vape and liking restriction i preferred both 5w under using the supplied 510 adaptor and 510 drip tip! The design is pleasing to the eye and it comes with a decent amount of extras including spare glass, alternative drip tip and the mentioned 510 adaptor!
The available coils do not require silly wattage so the Kriemhild II is a sub-ohm tank suitable for either a single or dual battery device which i suppose make it's 25mm diameter a subjective con as it will overhang smaller devices!
To sum up, out of all the sub-ohm tanks i have tested this is without doubt one of the better ones and is up there with the likes of the Freemax Fireluke and MPro series and Horizontech Falcon!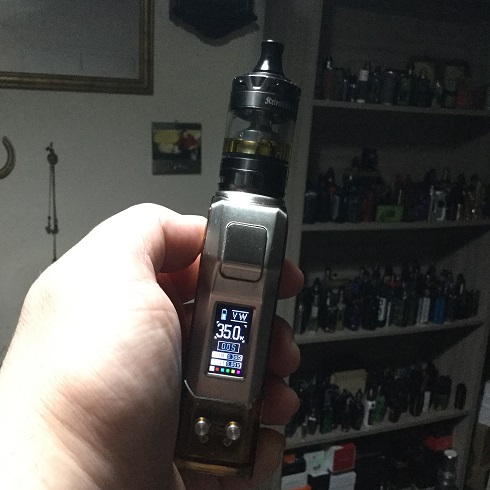 Airflow a fifth open and 510 drip tip fitted for a nice RDL vape!
___________________________________________________________________
Likes
Very good build quality
5 Colour options
Spare glass included
5ml bubble glass with Peace edition
4ml capacity (2ml TPD)
New patented Duplex Mesh 0.2ohm coil head included
Quick, smooth ramp up with Duplex coil head
FreeCore 0.3ohm mesh coil head also included
Dual cyclops adjusts with nice tolerance
Very good flavour both coils (Duplex just edges it)
DL, semi restricted and even RDL with closed down airflow and 510 drip tip
Smooth airflow
RBA coil head coming soon (hopefully)
Top-fill, self sealing membrane over fill ports (can remove)
Top-cap bayonet fitting
Press fitted coil heads
Included alternative 810 Resin drip tip
Included 510 drip tip adaptor
Dislikes
Got leaking/flooding with each coil when first filling (could well of been user error as explained)
Only 2 different coils available (RBA is promised)
25mm diameter so will overhang smaller devices (very petty)
I would once again like to thank Mindy from Vapefly for providing the Kriemhild II Sub Ohm Tank (Peace Edition) for the purpose of this review, thanks for reading and stay safe!
https://www.vapefly.com/Vapefly-Kriemhild-2/
https://ecigone.co.uk/products/vapefly-k...0256580786
___________________________________________________________________