Am excited to announce that the online tickets for VapeCon 2019 have gone live!
VapeCon 2019 will be taking place at Heartfelt Arena in Pretoria on 31 August & 1 September 2019.
We are pleased to report that we have kept the pricing the same as last year.
Online tickets pricing:
R80 for Saturday, R80 for Sunday or

R140 for a weekend pass (Sat & Sun)
https://itickets.co.za/events/431784.html
Three
advantages
of buying online:
You save R20 - or 20% (on the door price on the day of R100 - per day ticket)
Shorter processing time and quicker to get in - as an online ticket holder, it will make entering VapeCon quicker and easier
It's the only way you can get a weekend pass. (You won't be able to buy a ticket for Sunday at the door on Saturday.)
But wait.... there's more...
If you buy 5 tickets, you will get one FREE!


This applies to both the day tickets and the weekend passes.
So that's 6 day tickets for just R400. Effectively R66.67 per ticket. A

33% saving

on the door price
Or 6 weekend passes for just R700. Meaning R116.67 per weekend pass. Effectively R58.33 per day. So a big

41% saving

on the door price
Just select 5 tickets and the system will automatically give you an extra one for free.
In case you're wondering, what's the difference between Saturday and Sunday, don't worry, there's going to be enough of everything on both days to keep everyone happy!
If you're a B2B attendee, we suggest you come on Sunday from midday onwards - you are likely to get more quality B2B time with the exhibitors.
Print out your tickets and bring them to VapeCon 2019 to be scanned. Better to make a printout than rely on the screen of your phone. Just in case.
https://itickets.co.za/events/431784.html
I just bought 5 weekend passes now and got 6. Pleased to report it's all working!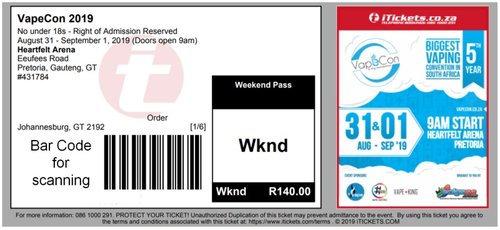 Last edited: