Good morning all

In order to generate some awareness of the

amazing advertising campaign

we have planned for VapeCon 2019, we have decided to run a competition.

The campaign kicks off on 1 August and will run for the whole month up to the event itself.

You need to go out and look for the VapeCon adverts. Then take a photo of the advert

with your vape in the picture

and post it here. We will do 3 random draws from the various posts and the winner will receive two VapeCon weekend pass tickets.

Let's see how good you are at finding our adverts. Or shall we say, lets see how good we are at placing the adverts in places where they will be seen - lol.

At this stage, we are not going to tell you where the adverts are. Let's just say there are several positions, they are large and will look amazing. If you see one out in the wild we hope you will be impressed. We may drop clues over time but for now we are saying nothing
The positions of the adverts are changing over the course of the month so there's a lot to look out for and we want to see your photos. Be creative. Let's have some fun!
How to Win
Find a VapeCon advert while you are out and about
Take a photo of the advert

with your vape in the picture

We need your vape in the picture to personalise it so we know it's your photo and not someone else's. All photos need to be unique

Post the picture in this thread and tell us:

where you saw the advert and
what you're looking forward to at VapeCon 2019

Tag 2 friends
The Prize
We will do
3 draws
between now and VapeCon, roughly a week apart. In each draw, eligible entries will be put into the randomiser and the winner will be announced. The winner will contact me via PM to get their prize.
The prize for each draw will be 2 weekend pass tickets to VapeCon 2019.
Other Platforms
We are running this competition here on ECIGSSA, on FaceBook and Instagram. Three separate competitions. Each will have the same 3 draws. You can enter on all three and will be eligible to win. However, if someone wins a particular draw on one platform, in the spirit of sharing, we won't let that same person win on other platforms for that same draw.
Competition Rules
Only valid entries will be considered for each draw. (Photo of the advert with your vape in it, location, what you're looking forward to at VapeCon 2019 and tag 2 friends.)
There will be three draws - roughly a week apart. The competition will start on 1 August and the final draw is anticipated to take place around 23 August.
Winners will be announced when each draw is done.
Everyone is welcome to participate in the spirit of this competition however members of the Admin and Mod Team (that know the locations of these adverts) will not be eligible to win.
You may enter as many times as you like, but only 1 entry per person per advert location. You can't post 20 entries of the same advert. If you spot different advert locations, you can enter those for eligible entries.
You can enter on all the platforms (ECIGSSA, FaceBook, Instagram) but can only win a particular draw on one platform.
Most importantly, we will see you at VapeCon 2019 at Heartfelt Arena, Pretoria on Saturday 31 August and Sunday 1 September 2019!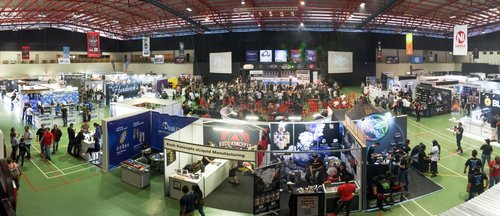 Last edited: